Can a Company get WHMIS Certified?
Some suppliers or contractors want to know that you are meeting your requirements for WHMIS training and the question has been asked, is there a certification for a company or a business? Maybe you have suppliers working for you. What would happen if they were not up to date on their safety training and they had to stop work on what they are doing for you?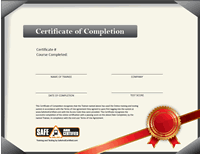 This is an example of an Individual WHMIS Certificate which each of your employees would get when they complete the WHMIS test.
What they really want to know is, "are you in Compliance with WHMIS?"
This is a legitimate concern. If someone hires you to complete some onsite work you want to know that they have been trained in WHMIS for the safety of your workers as well as them. And if they are not up to date and have their people trained they could be forced to stop work until they are in compliance.
You could provide the individual certificates of all the people who intend to work for the supplier but that gets time consuming when you have a lot of people. Since there isn't really a way to certify a company because this is an ongoing task to keep people's training up to date we looked for an alternative. The solution was to create a Compliance Report.
What is a WHMIS Compliance Report?
When you are using the SafeAndCertified.com system for your online WHMIS training all of your employee training records are stored online for you to access any time. This makes it easy to run a report that shows a summary of all the people you have and what percentage have completed their WHMIS training, what percentage are in progress, and what percentage have not started. Ideally that percentage of completed is 100% which is what you need to show to someone who wants to know if all of your employees have completed a WHMIS course.
We call this a Compliance Report and they are run automatically every 3 months to help you stay up to date. When asked where you are at in terms of your company employee WHMIS training you can refer to your latest compliance report and know exactly where you are at. The report is a one page summary and then detailed trainee listing as a PDF document making it easy to email or share.
I need employee WHMIS training, for several employees, how do I go about it?
When you are ready for online WHMIS training the first thing you need is a Company Account which allows all of your employee training records to be stored in your Company Account. You are given a login which allows you to monitor and manage your trainee records
The second step is to add your employees into the system and can be as simple as typing in their first and last name. Or if you have a lot of employees you can send us the list, preferable in a spreadsheet and we can import them for you in minutes.
Your employees can now access the training materials online any time and anywhere. And one by one your Compliance Report percentage will increase from 0% to 100%.
Can I create a Employer Account myself?
There may be times when you need WHMIS training to get your company WHMIS certified and you need it now. The self-serve option was created just for those times. You can complete the Account Setup form online with your business or organization name and address which is used for the Certificates.
Follow these 5 steps and you can be started your training in minutes.
Complete Account Setup Form for your Business
Include employee names
Review your order & select payment option
Complete your payment details
Each employee can begin testing
Can I call Support if I need help?
There is a toll-free number you can call during the hours of 8 to 5 CST. You can also email the support email address on the site and this is sent to multiple support reps and someone will help you as soon as possible.
Can you do the account setup for me?
We do offer a full service account setup, and will add your company info, each of your employees and send the access code back to you or directly to each employee. This is typically done within an hour of getting the information and the same business day in most cases.
It is easy to get started all you have to do is give us a call or fill in the Express Account setup and we will verify your information and get you started.
Getting your Company WHMIS Certified may not be possible but having a Compliance Report that shows 100% of your employees have completed the WHMIS course is a great alternative.
Return to WHMIS Home