Easy WHMIS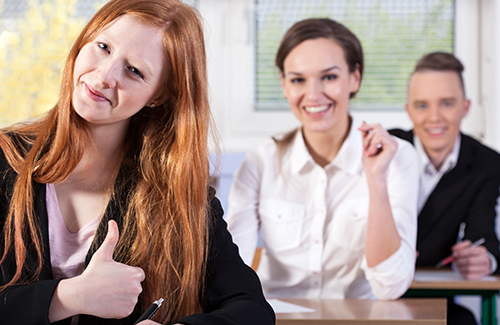 WHMIS wasn't always this easy. When we got started with our first online WHMIS course, most WHMIS training was done in a classrooms. People were organized into groups and spent a half day (in some cases ALL day) in a boring training session. You had your name checked off when you arrived and they gave you a certificate when you left.
When you are in face-to-face, instructor-led training, the group is forced to go as fast as the slowest person in the group. But with online training, that's just not the case. We've had one person ask us if there was a limit as to how fast they could go through our online course. We thought they were thinking the Internet was not fast enough! But what he really wanted to know was how quickly he could go through the course and get it done. When you can go at your own pace - and that pace is fast! - it's easy to get your necessary training done quickly. So we assured him with our online WHMIS he could go as fast as he wanted!
OK, one reason WHMIS training might not be as fast for some people to get through as others is, let's be real, it is not the most exciting course material there is. But with our version of the online training, we make this stuff as easy to get through as possible.
Easy to Take!
We stick to the basics and provide a comprehensive WHMIS course in eight modules that are each 100 minutes in total viewing time. That's right, it's just over an hour and a half of total course material each. The materials have an audio narration so you can listen to the key learning points in each module. Audio helps keep your brain engaged because you're learning across multiple senses. You can give your eyes a rest from the screen from time to time and still be able to take in the information.
Each section is broken up into a portion of the required learning exactly where it makes sense to separate the information. These smaller sections are easier to focus on the information being delivered, easier to digest so that it makes sense to you, and easier to retain the right information. And retaining the right information is extremely important when workplace safety is concerned.
Even the testing is setup as eight separate module tests. Breaking up the material appropriately and testing you in sections ensures you are taking in the correct amount of information at time for maximum retention. Tests are scored instantly after you submit your answers, for your immediate feedback and convenience. If you happen to get any questions incorrect, you can retake the test immediately until you have all the answers correct. No reason to feel bad retaking a test; hey, repetition is a good learning tool, too!
Easy to Manage!
For employers with multiple people in their staff to oversee, it is your responsibility to ensure the property training of a large group for the benefit of the entire workplace. Even large not-for-profit groups with many volunteers can benefit from ensuring their coworkers and the public are protected by being as up to date as possible on the current safety standards.
But looking for good training materials takes time. So does tracking each person's training activities and test records. If you have tried coordinating face-to-face instructing, coordinating time and locations, and even transportation to get there, can be a logistical nightmare. Waiting for instructors to complete grading, provide feedback, or depending on employees or volunteers themselves to self-report back to you - you don't need more on your plate.
If you are a manager, you know that even our best personnel can feel discouraged when getting bogged down in seemingly endless training requirements. But employees love the undeniable convenience of being able to fit training into their schedule, anytime, and anywhere.
With online training, it only takes a couple of easy clicks and you can instantly see the status of your group. Be instantly informed as to who has completed their training, who is up for a WHMIS renewal and who may need a reminder message.
Our online training algorithms even come with built in features for alerting you or your employees need to begin to work on WHMIS renewals. When there have been revisions to WHMIS or as compliance requirements change, we keep working on ensuring our courses are consistently up to date and even add revised or new courses when necessary.
Easy on Your Budget!
Since we added the $19.99 per person rate for companies, and $29.99 rate for individuals, you now have a more affordable way to get your WHMIS training. Our rate is extremely competitive and we are confident we are providing a high quality comprehensive WHMIS course.
Online training also carries the added benefit of being compatible with any environment, whether you are completing it at work or at home. Your overhead costs for assuring you're achieving the right certified training are virtually free. Online training's low cost of delivery helps you to be able to show a good return on investment for your training budget. What helps your bottom line frees up funds in your budget for other things. And that's a good thing!
Easy to comply!
"We just want to comply" is something we have heard many times over since being in business. It is a phrase that is sometimes said to us with frustration or resignation. But for us, it gives us the motivation to provide a service that completely takes away the pain of you guys having to figure this stuff out on your own.
While being incredibly important, small to mid-sized businesses especially can find it a struggle to deliver and comply with everything they are expected to know, train for, and adhere to for workplace safety. The people, procedures and systems are already in place for you to be able to make this happen.
Access training records, certificates, and anything else that is necessary for you to prove compliances, is available to you at your fingertips through our easy-to-navigate online training.
Training Managers, HR Professionals, Health and Safety Managers, Business Owners, and more, be encouraged! One hundred per cent compliance is fully - and easily - achievable and it doesn't need to take a lot out of you to make it happen.
When you choose online training like ours, which includes testing and an official WHMIS certificate, you can also be confident you are receiving full service and support.

Home
/
Articles & Resources
/
Easy WHMIS